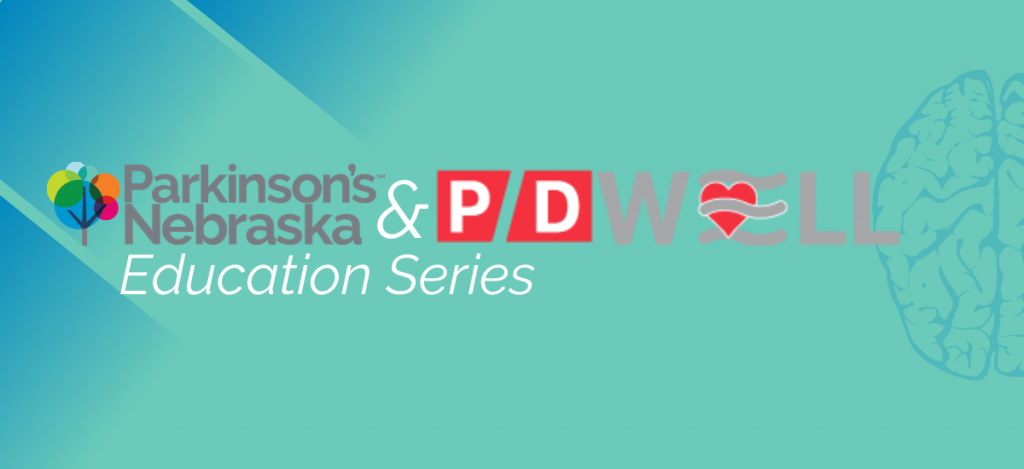 Parkinson's Nebraska has partnered PDWELL: A Parkinson's Therapy, Wellness, and Resource Center to provide the monthly Education Program Series! We believes that education allows people with Parkinson's and their families to be their own advocates & are committed to making educational opportunities available across the state. 
April Program
April is Parkinson's Awareness Month and we are excited to welcome Dr. Danish Bhatti, MD, FAAN from Nebraska Medicine/UNMC to the Education Series. Dr. Bhatti will be sharing an update on Parkinson's disease research. Join us to stay up to date on the latest research!
An Update on Research in Parkinson's Disease
featuring Dr. Danish Bhatti, MD, FAAN
Date:  Wednesday, April 28th
Time:  2:00 pm CST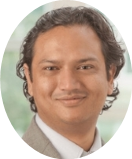 This presentation is free, but registration is required.

Past Educational Programs
All of our educational programs are recorded for viewers to access at any time. See past presentations below:
April- Innovations in Deep Brain Stimulation with Dr. Bhatti
We partnered with Abbott Labs and Dr. Danish Bhatti from the Center for Movement Disorders at Nebraska Medicine to bring the community information and a discussion about Innovations in Deep Brain Stimulation.
Dr. Bhatti is a movement disorder neurologist and the Assistant Professor of the Department of Neurological Sciences and Co-Director of the Multidisciplinary Parkinson's Disease Clinic at the University of Nebraska Medical Center. 
May- The Financial Impact of Covid-19 with Alan Hauschild
The coronoavirus pandemic has created a great deal of change during the last two months. Alan Hauschild, CFP, CLTC, shares information on the legislation changes (CARES Act) and financial impact for the 2019 and 2020 tax years, particularly as it relates to long-term care planning for people with Parkinson's.
June- Parkinson's Disease: More than Motor Symptoms
Dr. Sachin Kapur joined the group to share information about some of the non-motor symptoms of Parkinson's disease – hallucinations and delusions. Around 50% of people with PD experience hallucinations or delusions over the course of the disease.
We were not able to record this presentation. However, there are paper handouts of the presentation available. Please email Amber at amber@parkinsonsnebraska.org with your mailing address to be sent a copy. We also plan to host this presentation again during our monthly support group – stay tuned!
July- Doctor I'm Dizzy! Is This My Parkinson's? Understanding Neurogenic Orthostatic Hypotension
Dr. Frausto joined us to share general information on neurogenic orthostatic hypotension (nOH), including causes, symptoms, the burden of living with nOH, and the diagnosis and management of nOH. 
We were not able to record this presentation. However, we would be happy to connect you with Dr. Frausto for more information. Please email Amber at amber@parkinsonsnebraska.org for more information. 
August- No Education Series program in August
September- Preparing for a Hospital Visit During Covid-19
The limit of hospital visitors and other changes impacts a caregiver's ability to be the advocate and what it takes to prepare for a hospital stay. Cheri Prince, DPT from PDWELL joined us to discuss the Parkinson's Foundation Aware in Care hospital kit, particularly hospital preparedness during Covid-19. 
October- Your Journey with Parkinson's with Dr. Ana Delgado
We were not able to record October's educational program. For more information about this topic, please contact Amber at 402-715-4707 or amber@parkinsonsnebraska.org. 
November- Resilience and Heart Rate Variability
This program explores ways to decrease anxiety, improve coping skills, and focus on gratitude as we approach the holiday season!
February 2021-Balanced Care Method™
We are excited to welcome Whitney McCoy, BSN with Home Care Assistance to share information on the Balanced Care Method™!
---
Click below to explore:
PN Exercise Classes
PN Support Groups
PN Educational Programs
RCO Program