Parkinson's Nebraska Newsletter
Parkinson's Nebraska Newsletter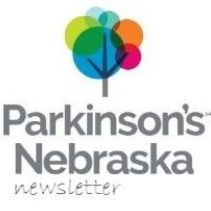 The Parkinson'a Nebraska monthly newsletter provides information about educational opportunities, upcoming events, new resources, and more for people living with Parkinson's and their families.
Subscribe today!
Subscribe
Please fill out the form below to subscribe to the Parkinson's Nebraska monthly e-newsletter.
Past Issues
View the archive of past newsletters below.
2019
2020
---
Click below to explore:
Calendar
Facebook
Newsletter
Blog