Nebraska Parkinson's Registry
Nebraska Parkinson's Registry
In 1996, the Parkinson's Disease Registry Act was enacted by the Nebraska legislature, becoming the first state to create a Parkinson's disease registry. Under the legislation, physicians and pharmacists are required to report any individual diagnosed with Parkinson's or taking medications associated with the treatment of Parkinson's disease.
In 2001, the law that created the Parkinson's Disease Registry was briefly repealed. However, it was quickly revived and DHHS was given the responsibility to continue the program. Due to a lack of funding, the registry was terminated in October 2004. The registry was reinstated on February 1, 2006, with co-funding from the Michael J Fox Foundation and American Parkinson's Disease Association.
The Nebraska Registry created a database of information on the rate of Parkinson's in each county in Nebraska. It has been utilized as a tool for planning health care requirements, educating healthcare providers, and Parkinson's disease research. It provides a valuable tool for collecting epidemiological data or data related to the branch of medicine that deals with the incidence, distribution, and control of the disease.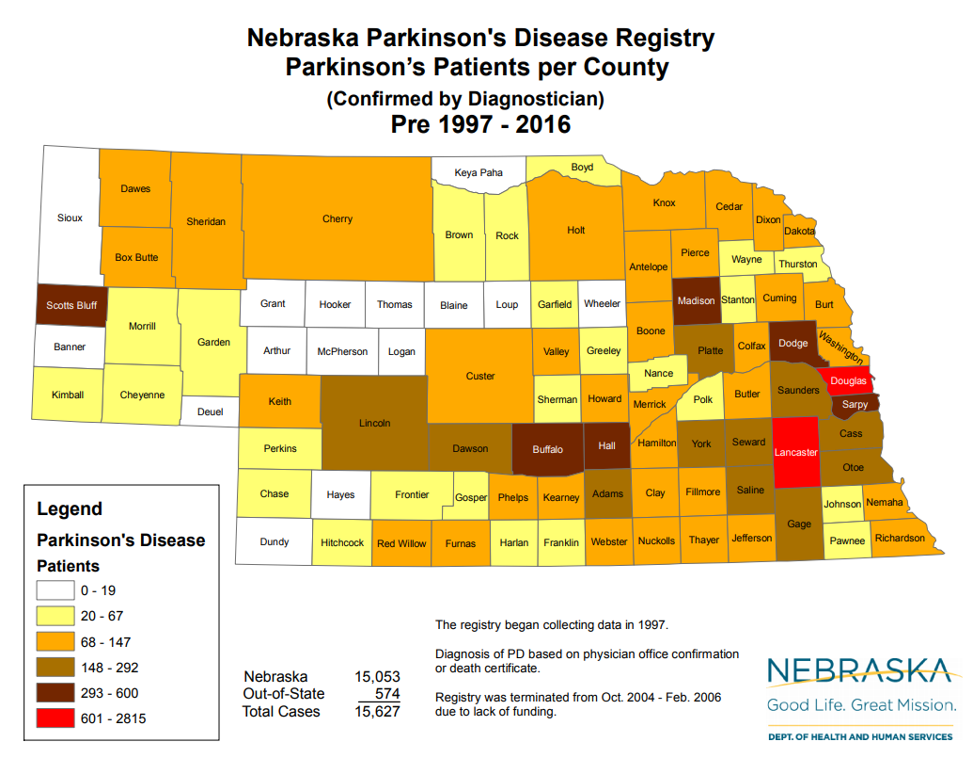 Researchers have already been able to use this data to measure the prevalence in urban versus rural regions. They are able to then recruit samples from these areas to assess exposure to a wide range of risk factors. This 2015 study in the Journal of Rural Health used the registry data to investigate at the link between exposure to pesticides and Parkinson's disease.
According to the latest report released in January 2019, there has been 16,464 people diagnosed in Nebraska since 1997. The Nebraska Parkinson's Disease Registry Statistics Report (Pre- 1997- 2019) provides year-by-year diagnosis rates and a summary of Parkinson's patients.
For more information about the Parkinson's Disease Registry and previous reports, visit http://dhhs.ne.gov/Pages/Parkinsons-Disease-Registry.asp or contact Jill Krause at 402-471-8582 or jill.krause@nebraska.gov.
Click below to explore:
What is Parkinson's Disease?
Webinars