Tuesday, December 3rd is

#GivingTuesday is a global day of online giving. Held the Tuesday after Thanksgiving and the popular shopping events Black Friday and Cyber Monday, December 3 is a day for giving back.
This year, Parkinson's Nebraska is raising money to support Parkinson's services in underserved communities across the state.
Through our partnership with GIVE65, a program of the Home Instead Senior Care Foundation, there are $50,000 in matching grants available on #GivingTuesday. We have the chance to double our fundraising efforts up to $5,000, but only while those matching dollars are still available. Matching dollars are awarded on a first come, first matched basis, meaning the earlier you give, the more likely your gift is to be matched.
Giving starts at 12 a.m. Central Standard Time on Tuesday, Dec. 3, at www.give65.org/parkinsons_nebraska and it concludes at 12 a.m. Central Standard Time on Wednesday, Dec. 4. You can also learn more about our fundraising efforts and how your gift will make a difference in the lives of seniors in our community on our website www.parkinsonsnebraska.org.
Please plan to make a gift of $10 or more as early as possible on December 3 so we have the greatest chance to receive up to $5,000 in matching funds. Our partnership with GIVE65 gives us the chance to have an even greater impact on the Parkinson's community. We are so grateful for your support!

---
Support Parkinson's exercise classes.
We recognized the need for exercise classes in rural and under-served communities across Nebraska. That is why we hosted a training for 55 Nebraska professionals to learn how to design a Parkinson's exercise program. There are now 21 new Parkinson's exercise classes Nebraska!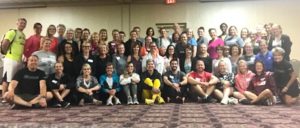 Help us keep the momentum! Your #GivingTuesday gift will provide equipment, licensing fees, professional trainings, and more to programs in communities across the state.
---
Support professional trainings.
The Rock Steady Boxing class in Grand Island sure knows how to fight the main opponent- Parkinson's disease!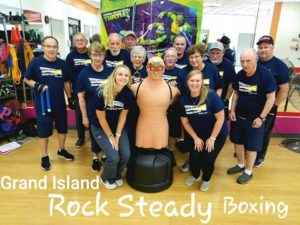 This class was made possible because of our generous donors.
Parkinson's Nebraska provided a grant for Rock Steady Boxing coach, Ashlyn Cramer, to become certified and start a class in Grand Island. She also attended the Delay the Disease training in July and provides quality PD therapy and exercise classes to the Grand Island community.