Upcoming Events
Check out Upcoming Events in the Parkinson's community! These events offer a fun way to get active and engage with other people with PD. 
For information on other programs such as educational presentations, webinars, exercise classes & support groups, and other services, please visit the Resource Directory.
Game On!
Thursday, September 3 @ 12:30 pm – 1:30 pm CDT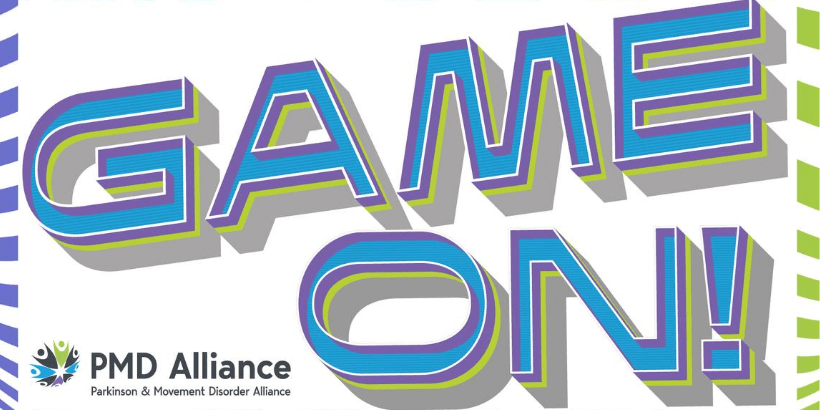 Game shows have been around since the 1930's. They are fun, educational and have been called one of America's great spectator sports. Join us for Game On™, our educational game show where your knowledge will be tested or enhanced through a variety of different game types. Learn about Parkinson's symptoms, treatments, and test your knowledge of random trivia. Everyone is a winner in this interactive program.
This event is free but registration is required.
---
Walk the State Challenge
Monday August 31 – Saturday, September 12th @ 5:00 pm CDT
This year, the Parkinson's Nebraska annual walk is not only going virtual – it's going statewide!
We are challenging our supporters to a statewide, virtual exercise challenge. The Walk the State Challenge is a 2-week team fitness challenge from August 31st- September 12th. 
During this time, teams will be working to collectively exercise, bike, walk, and run 455 miles- the distance across Nebraska!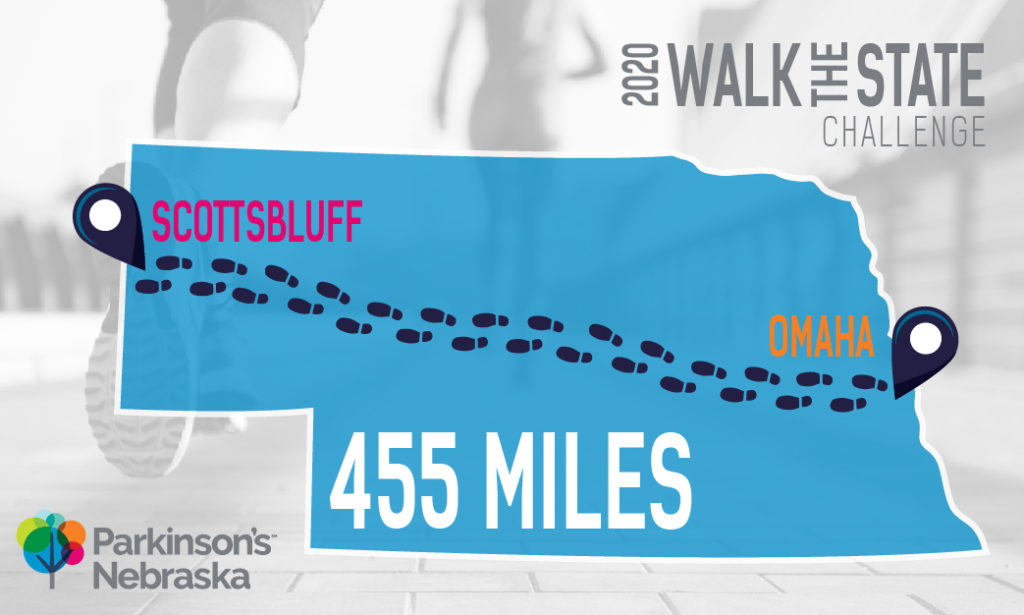 There is no cost to participate in the Walk the State challenge. However, teams are encouraged to raise money from friends, family, and coworkers to support the mission of Parkinson's Nebraska. All funds raised will stay in Nebraska and be used to increase our rural outreach efforts.
Form a #WalktheState Challenge Team 
Forming a #WalktheState Challenge team is super easy! 
Recruit your team. Friends, family, and coworkers- unite! This is also a great opportunity for support groups and exercise classes from across the state to challenge each other to stay active, have fun, & raise money for Parkinson's services. 
Fundraise. Spend a minute setting-up your personal and team fundraising pages. It's super easy and we've already done a lot of the work for you! Teams that raise $455 or more will receive a t-shirt for all team members. Teams that raise $500 will be entered into a raffle and receive another entry for every additional $250 raised. 
Walk the State. It is 455 miles between Omaha and Scottsbluff, spanning the distance of our beautiful state. Teams are challenged to collectively walk, run, or exercise equal to 455 miles between Monday, August 31- Saturday, September 12th.
---
Tying the State Together Kick-off
September 5, 2020 @ 9:30 am CDT
Our board members are more committed than ever to increasing services and spreading awareness across Nebraska. They are proving their commitment by taking the Walk the State Challenge literally and are cycling across Nebraska!
Ted Wuebben and Ryan Cary from our board will be riding, camping, and spreading awareness across the state for the Tying the State Together journey. Ted will start in Omaha, Ryan will start in Scottsbluff, and they will ride to meet each other in the middle at Valentine, NE!
They will be camping in towns and spreading Parkinson's awareness to communities along their path. Will they be stopping near you? Check out their route map below: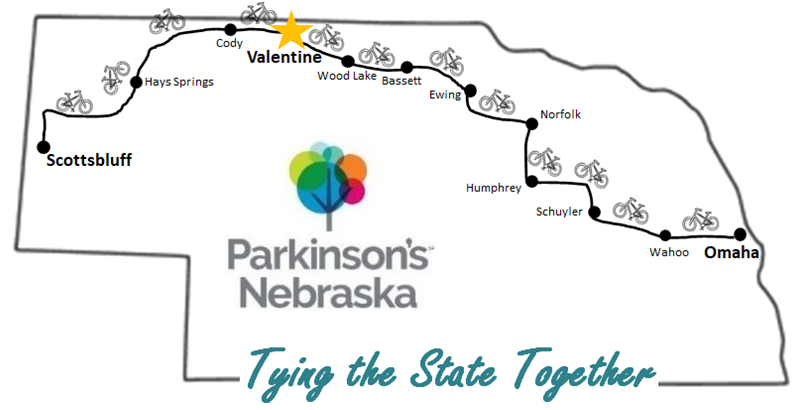 The Tying the State Together journey will kick off on Saturday, September 5th with a commencement ride led by Honorary Rider Dr. Howard Gendelman from UNMC. The riders, along with friends and family, will be taking off from the Parkinson's Nebraska office on 168th and Blondo in Omaha. Watch the commencement kick-off live on our Facebook page on Saturday, September 5th at 9:30 am.
---
Walk the State Virtual Event
September 13, 2020 @ 9:30-11:30 am CDT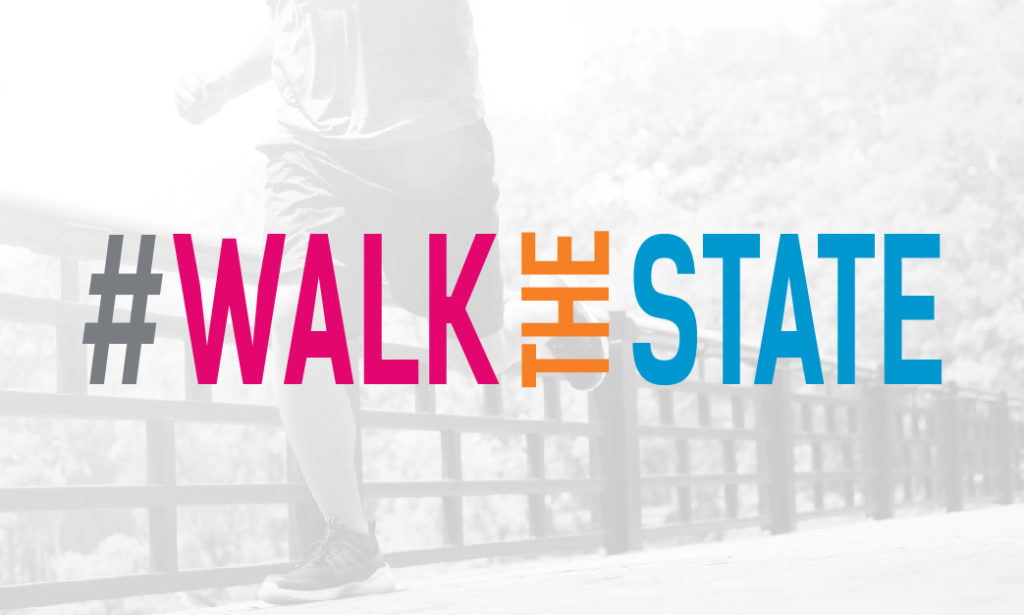 On Sunday, September 13th join us for the Walk the State Virtual Event. This free event will provide an opportunity for the community to come together to move, learn, and have fun! We will have movement breaks with instructors from across the state, education from leaders in the PD community, and a celebration and prizes for the Walk the State teams.
The event agenda is coming soon!  
This event is free but registration is required.
---
Click below to explore:
Calendar
Facebook
Newsletter
Blog