Parkinson's Nebraska Sponsored Classes
Parkinson's Nebraska recognizes the evidence-based benefits of exercise. We are proud to have sponsored over 1,000 specialized Parkinson's exercise classes since 2016. We are committed to making Parkinson's-specific exercise classes accessible by sponsoring classes in the community.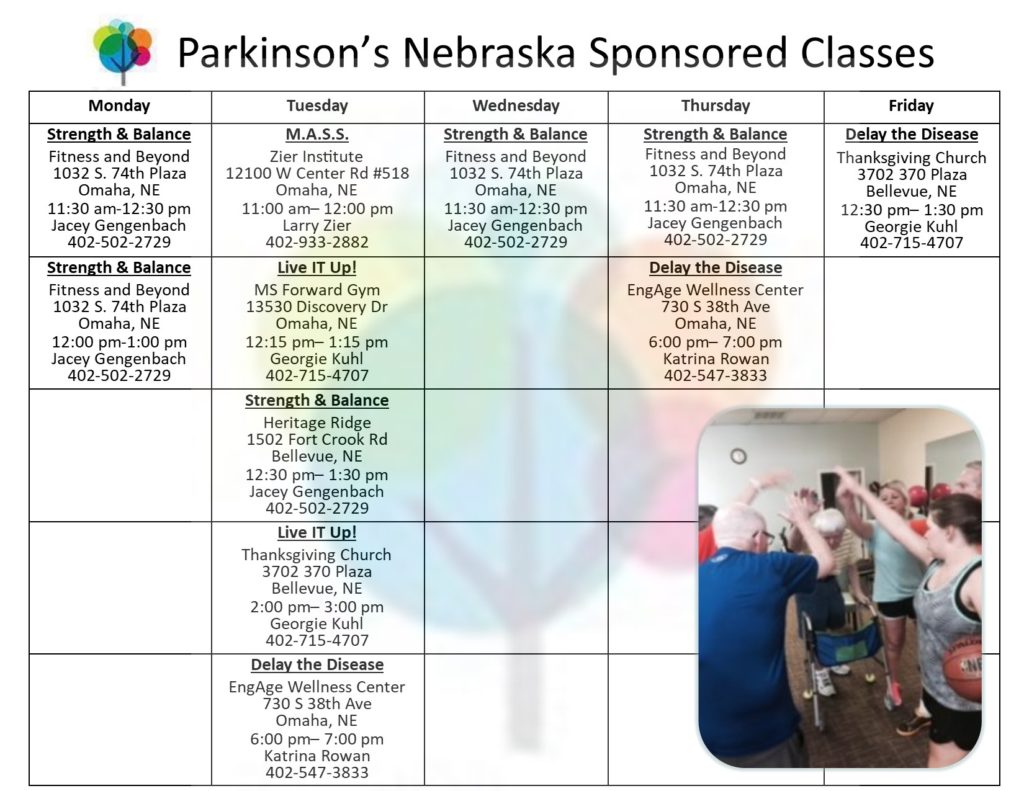 Class Descriptions
Live IT Up!
This "one-of-a-kind" class pairs group speech and group exercise together. Mindfulness, education, and social time are also interwoven to provide a holistic approach to PD wellness. Speech Pathologist Amy Renken and Dance for PD and PWR!Moves Certified Instructor Georgie Kuhl team up to teach this FUN and innovative class.
Delay the Disease
Delay the Disease is an evidence based, Parkinson's specific exercise program that targets Parkinson's symptoms to improve independence and quality of life.
Strength and Balance
This class is specifically  designed for people with  Parkinson's disease. It focuses on flexibility, gait, posture, and balance with an emphasis on activities of daily living.
M.A.S.S.
This class is geared toward helping you maintain mobility, strength, and balance  throughout various stages of Parkinson's disease.
Registration
Copays
For $35/ month you can gain unlimited access to all of the sponsored exercise classes, or drop in to any class for $5.  All payments can be made directly to the instructor. Please makes checks to Parkinson's Nebraska. Any payment over $35 is a tax-deductible donation.
It is free for caregivers to attend classes.
Financial Assistance
No one will ever be turned away from classes! Our goal is to make these classes accessible to all, regardless of ability to pay. If you would like to participate in classes but need help paying the $35 monthly copay, please contact Parkinson's Nebraska. Financial assistance is available.
Registration 
Registering for the sponsored classes is easy:
Click the button below to access the Sponsored Class Registration Form.

Email the form to your doctor to complete the Physician Statement and Clearance Form section.

Print out the form with the completed Physician Statement and Clearance Form signed by your doctor.

Complete the participant information, liability waiver and media release sections of the form.

Bring completed form with you to your first class and give to the instructor.

The Registration Form, including the Physician Statement and Clearance, must be completed prior to attending a class. We want to ensure all participants are healthy enough to exercise and instructors are informed of any limitations to properly modify exercises. Your health and safety is our #1 priority!
Please contact your class instructor for any questions about the copays or registering for classes. Instructor phone numbers can be found on the Class Schedule.