Skate-a-Thon for Parkinson's
2020 Skate-a-Thon for Parkinson's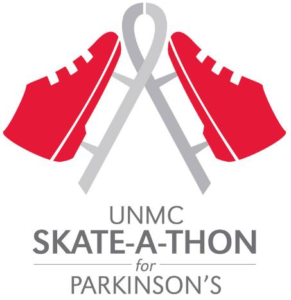 Join us for the 11th annual UNMC Skate-a-Thon for Parkinson's! This unique, family-friendly event is a 24-hour outdoor ice skating fundraiser to benefit UNMC Parkinson's disease research and support the mission of Parkinson's Nebraska. As always, all proceeds will stay right here in Nebraska to provide Parkinson's disease education, exercise classes, support groups, trainings, and more programming across the state.

Registration
Individual and Family Registration
Tickets include unlimited skating—stop by any time to skate, and skate for as long as you'd like!
Individual: $15 Price includes registration and skate-rental.
Family: $50 Price includes registration and skate rental for two adults and up to 8 children (under the age of 18) from the same household.
Rock the Clock Team Registration
Rock-the Clock Teams are teams committed to being out on the ice for the full the twenty– four hours! Recruit your family, friends, and co-workers to form a team. Divide up the 24 hours to have a representative out on the ice throughout the entire event. Team Captains, use the Rock the Clock Team Roster to track your team's hours on the rink.
Rock the Clock Team Member: $15 Price includes registration, skate-rental, free food, motivation, and recognition throughout the event.
Registration for the 2020 Skate-a-Thon will open on Sunday, December 1! 
---
Rally your Cheerleaders!
You can help raise more money for Parkinson's services by rallying your cheerleaders to pledge a donation to the Skate-a-Thon! Use the 2020 Skate-a-Thon Pledge Form to track donations from your supporters. Then, send the completed Pledge Form and donations to the Parkinson's Nebraska office at 16811 Burdette St. Ste. 1 Omaha, NE 68116.
The Individual, Family, and Rock the Clock Team that raises the most money will win a prize!!
Get out there and rally your fans! 📣
---
Get involved!
Volunteer: We need A LOT of help to power this 24-hour event. There are many ways and times available to help out. The volunteer sign-up sheet will be up soon. Check back!
Sponsor: We rely on our community partners to help us power our mission and provides life-enhancing services to the Parkinson's community across Nebraska. We couldn't do it without our generous sponsors. 2020 Skate-a-Thon sponsorships are available!
Donate: Can't make it out to the rink or not a fan of ice skating? No problem! You can still help us make an impact by donating at www.parkinsonsnebraska.org/donate.