Save the Date to Double Your Dollar
June 3, 2021
Parkinson's Nebraska is excited to participate in the 2021 Give65 Event. Give65 is an online giving event hosted by Home Instead Charities. The event will kick off at 8:00 am on Tuesday, July 13th and end at 1:00 am on July 16th.
That's 65 hours of giving to support Parkinson's programs and service providers across Nebraska! Your gift will help provide community grants and scholarships to support Parkinson's wellness programs such as exercise classes, support groups, and specialized therapy.
Double Your Donation!
Not only does your gift provide grants for crucial services, it impacts twice as many programs. We have $3,000 in matching funds available during the Give65 Event. That means the first $3,000 in donations between July 13- July 16 are guaranteed be matched- dollar for dollar!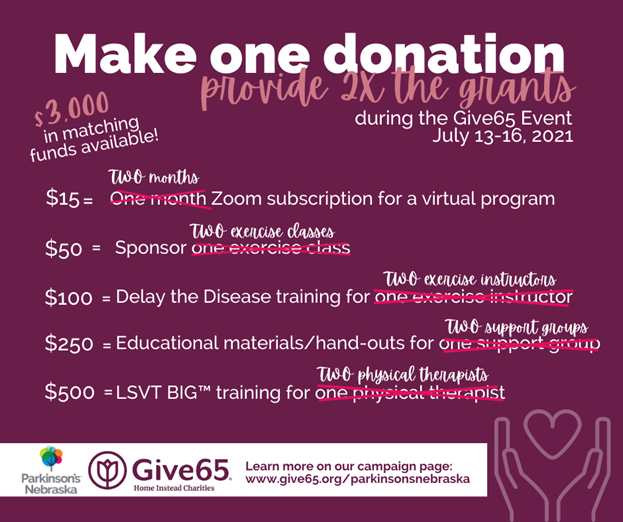 But that's not all! Home Instead Charities is providing its largest package of additional financial incentives this year. Learn more about these incentives and how you can stretch your dollar even farther at www.give65.org.
Take advantage of the matching funds and other incentives to multiply the impact your gift makes. Learn more about our campaign and how your gift supports the Parkinson's community at www.give65.org/parkinsonsnebraska.
You can make living well with Parkinson's a reality for all Nebraskans. We wouldn't be able to improve the quality of life for Nebraskans with Parkinson's and their families without you.

Thank you!