COVID- 19 Update: Many events, classes, and groups have cancelled to help contain the spread of COVID-19 and keep our community safe. Contact your local class instructors and support group facilitators to learn more about cancellations in your area.
Tuesday, March 3rd
This free educational program is presented by the Parkinson's Foundation. Come and say hi at the Parkinson's Nebraska booth!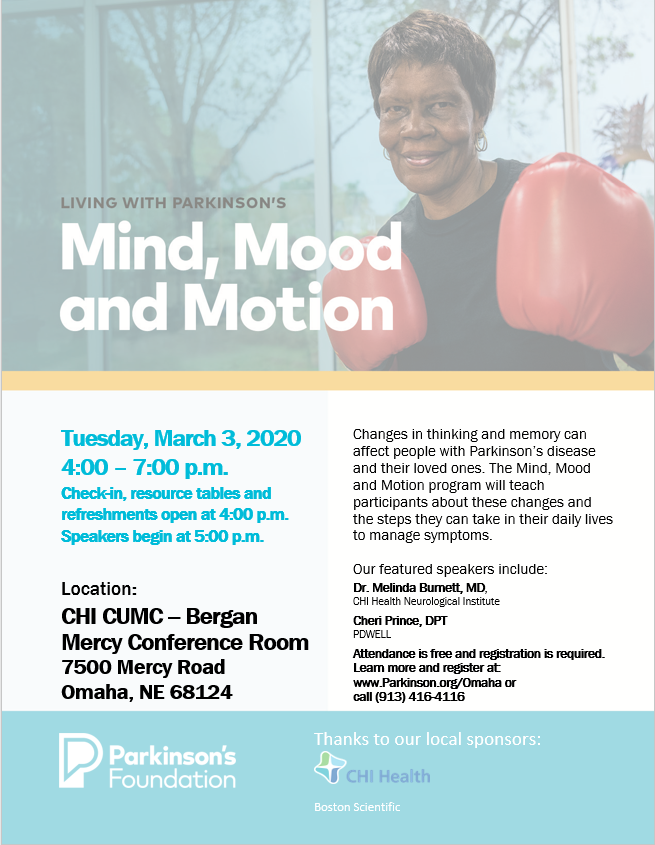 Register online at Parkinson.org/Omaha or call 913-416-4116.
---
Thursday, March 5th
Volunteers are needed for a Creighton University lab for physical therapy students learning to use Yoga, Tai Chi, and Pilates as intervention strategies for Parkinson's disease.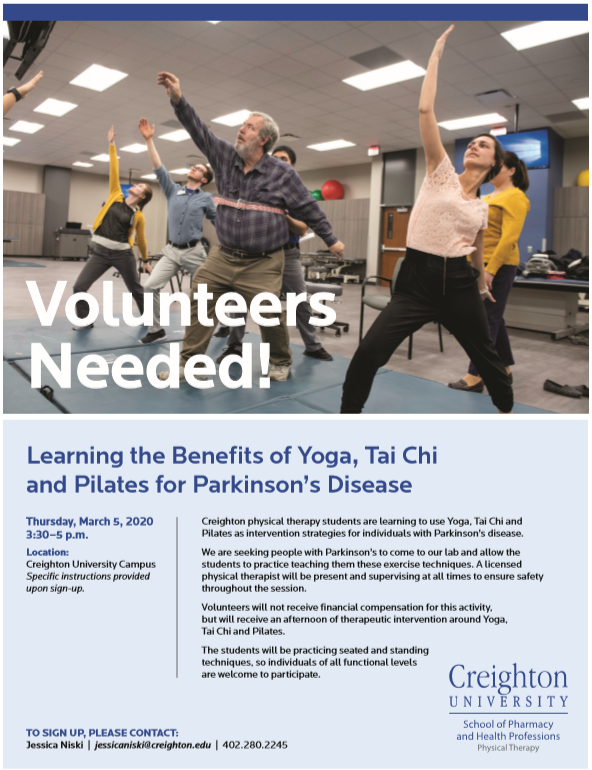 For more information and to register, contact Jessica Niski at 402-280-2245 or jessicamiski@creighton.edu
---
Tuesday, March 10th
Learn how Duopa can help on your Parkinson's journey. A physician and patient will join to talk to the group and answer questions.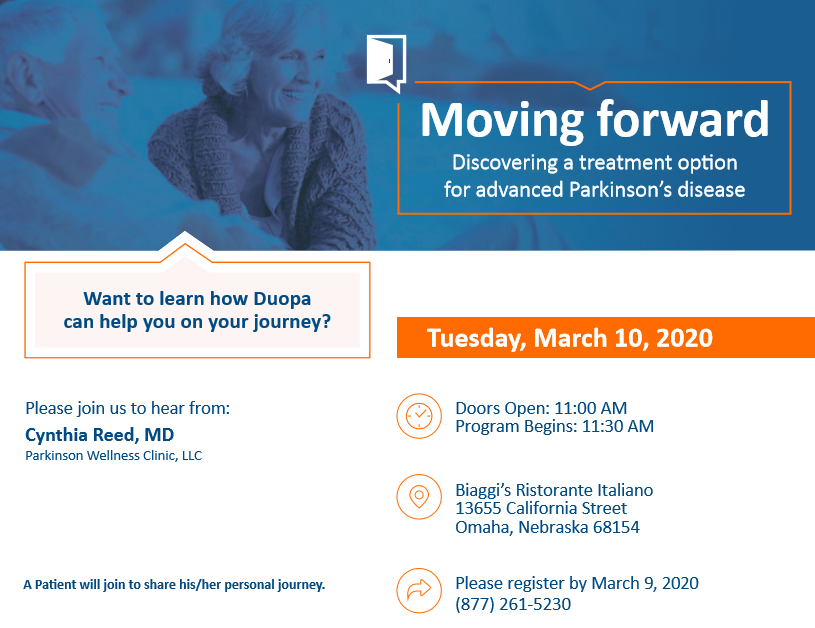 Register by March 9 by calling 877-261-5230.
---
Tuesday, March 17th- POSTPONED
The March Lunch and Learn Series topic is Does Nutrition Play a Role in PD Symptoms or Progression?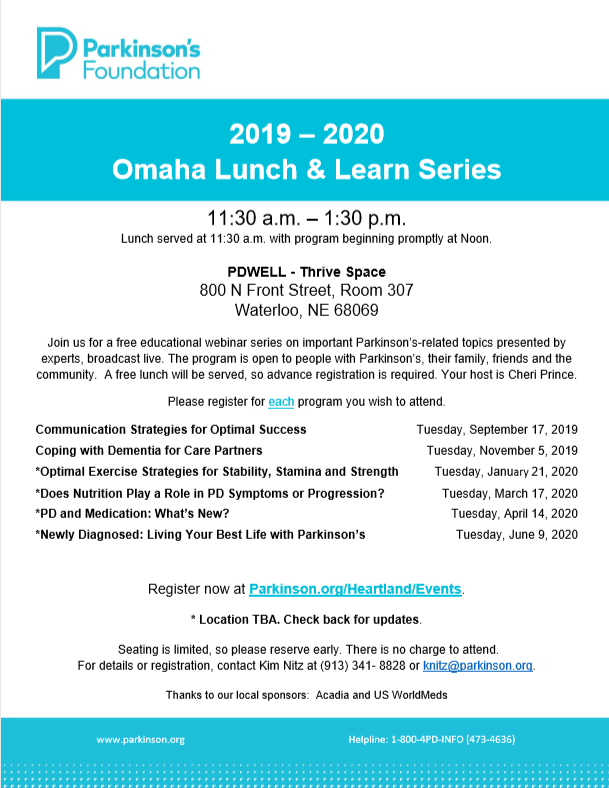 Register online at Parkinson.org/Heartland/Events or call 913-341-8828.
---
Friday, March 27th- POSTPONED
Get ready to catch a flying pancake! 🥞 Hillcrest is hosting a pancake benefit for Parkinson's Nebraska. The Pancake Man will be entertaining guests and serving a pancake breakfast for a freewill donation.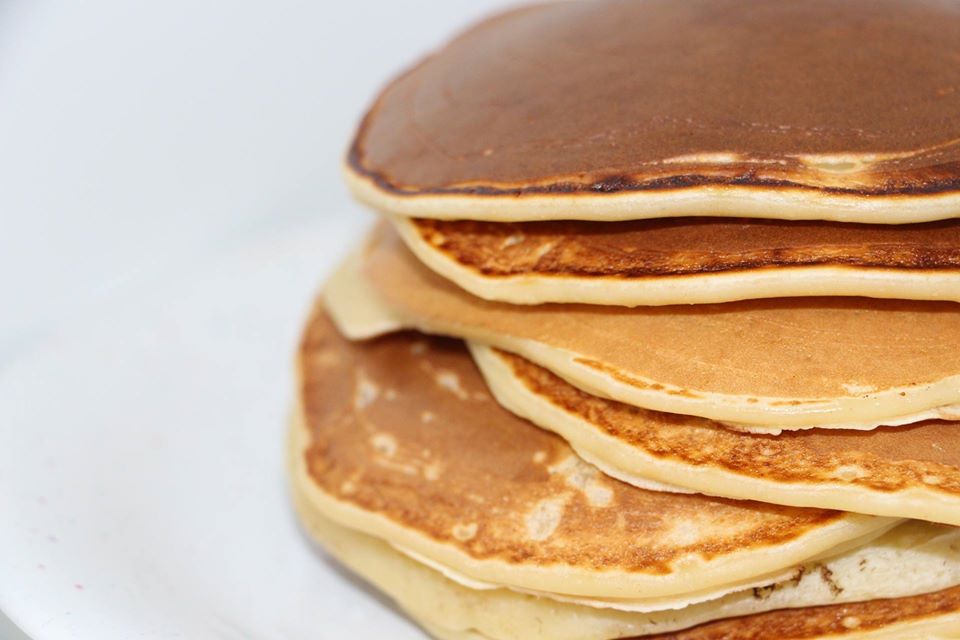 Date: Friday, March 27
Time: 7:30 am- 10:30 am
Location: Hillcrest Country Estates Grand Lodge
6021 Grand Lodge Ave
Papillion, NE 68133
---
Do you want to host a Parkinson's educational, fundraising, or community engagement event in your community? We would love to help you! Contact Amber at 402-715-4707 or amber@parkinsonsnebraska.org to get started.