Jacey Gengenbach at 2018 Functional Aging Summit
May 3, 2019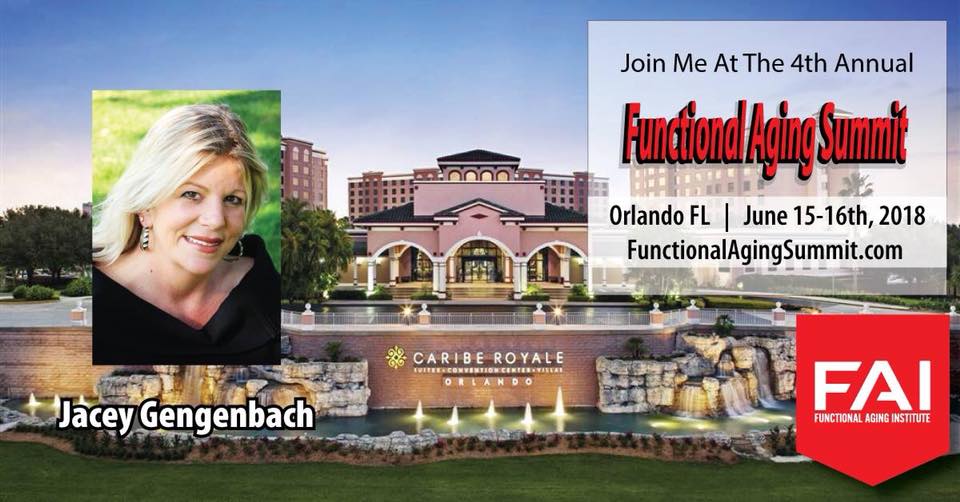 Functional aging is a concept that is based on the idea that measurements other than chronological ago can be used to measure someone's position in the aging process. The Functional Aging Institute (FAI) is a training platform for personal trainers specializing in fitness for older adults. Each year since 2015, it hosts the Functional Aging Summit- the world's premier fitness, training, and aging event.
Jacey Gengenbach, the instructor for the Parkinson's Nebraska- sponsored exercise lass called Strength and Balance, attended the Summit in 2016 and 2017. In 2018, she was asked to be a speaker at the Summit. Her presentation was on Exercise and Parkinson's Disease and she shared information about:
What Parkinson's Disease is
The benefits of exercise
Myths and misconceptions
Do's and don'ts for professionals
A training demo
Client success stories.
One of her favorites parts of being at the Summit is being surrounded by fitness and aging experts, learning from others, and sharing her experiences and knowledge. "The knowledge and passion at this event is truly amazing… The Summit literally helps you get better at everything."
The clients Jacey works with at Fitness and Beyond also benefit from the Summit because she is bringing back the latest and greatest in exercise and wellness for active aging adults. She says that the Summit "helps [professionals] get better at everything." Just like that is the goal of the Summit, Jacey's goal is to have her clients moving better, feeling better, and doing the things they love as long as possible.
Additionally, Jacey has co-authored a book with Functional Aging Institute co-founder, Dan Ritchie titled Active Aging: Functional Fitness to renew Your Strength, Balance, and Energy for the Best Years Yet. The book explores functional fitness and how it can "equip you to live life at full strength".
Parkinson's Nebraska is proud to have Jacey as a partner and are grateful for the knowledge and expertise she provides to the Parkinson's community. Parkinson's Nebraska sponsors the Strength and Balance class at Fitness and Beyond (1032 S. 74th Plaza, Omaha, NE). Stop by and check it out!
Monday 11:30 am- 12:30 pm
12:00 pm- 1:00 pm
Tuesday 12:30 pm- 1:30 pm
Wednesday 12:30 pm- 1:30 pm
Thursday 12:30 pm- 1:30 pm
To learn more about Jacey, her book, and her classes please visit http://fitnessandbeyondomaha.com/.