What is Give65?
GIVE65 is a program of the Home Instead Senior Care Foundation, devoted exclusively to help raise money online for programs and services that create hope for seniors. Parkinson's Nebraska is participating in the GIVE65 Event again this year to help seniors right here in Nebraska.
Our Goal is $15,000
You can help us reach our goal!
We have the chance to not only receive up to $5,000 in matching funds, but we are also competing for an additional $10,000 in financial rewards based on how much we raise or how many donors give. Donate early so your donation will be matched, dollar for dollar, before the matching funds disappear. Once they are gone, there will be no more matches. Set a reminder to make your donation of $10 or more right at 7:00 am on Tuesday, July 9th.
Is 7:00 am too early? No worries! You can also pre-schedule your donation any time between July 1-8. Your pre-scheduled donation will post at 7:00 am on July 9th and be eligible for a dollar for dollar match. Participate in our Prescheduling Party to earn sweet Parkinson's Nebraska merch! More information about the Prescheduling Party can be found here.
Your donation will allow us to continue spreading awareness, providing education, and making Parkinson's resources more accessible across the state of Nebraska. Together, we can improve lives. Together, the journey of Parkinson's is A Journey Shared.
Visit https://www.give65.org/a_journey_shared to donate and learn more about our campaign. Thank you for helping us improve lives!
Prescheduling Party!
This year, we are eligible to receive matching funds the from Home Instead Senior Care Foundation up to $5,000. But these funds go fast! Guarantee your donation gets matched dollar for dollar by scheduling your donation during our Prescheduling Party between July 1st– July 8th. Scheduled donations will be the first to process during the GIVE65 event and will be the first contributions to be matched. You can easily participate at work, at home in your pajamas, or out on the go. Our goal is to have at least $5,000 in scheduled donations before the event begins.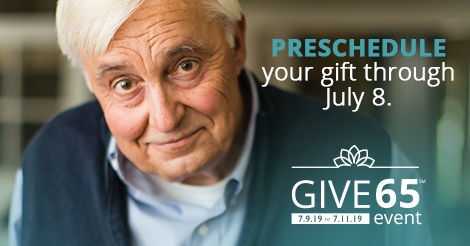 Help us turn $5,000 to $10,000!!
When: July 1- July 8
Where: Wherever you want! This party is all online. You can schedule your donation by simply visiting our GIVE65 fundraising page at https://www.give65.org/a_journey_shared.
How: Preschedule your donation at https://www.give65.org/a_journey_shared from July 1- July 8
Why: To match your donation dollar-for-dollar and earn sweet Parkinson's Nebraska merch
Incentives: You get the opportunity to win Parkinson's Nebraska merchandise when you schedule your donation during the Prescheduling Party!
Prizes:
$50-$100 donation- Parkinson's Nebraska tumblers
$100-$250 donation- Parkinson's Nebraska throw blanket
$250 or more donation- Parkinson's Nebraska deluxe fleece blanket
We have 15 tumblers, 10 throw blankets, and 3 deluxe fleece blankets to give away to the first donors who schedule a donation in each amount category.
Mark your calendars now to schedule your donation on our GIVE65 fundraising page at https://www.give65.org/a_journey_shared between July 1 and July 8 to double your donation and for your chance to win Parkinson's Nebraska merch!
---
Burritos for Parkinson's
This year we did't want to limit the GIVE65 fun to online. We are giving you another delicious way to get involved with our campaign and support the Parkinson's community!
What better way than with something that fills the belly and warms the heart 🌯 🌮 ❤️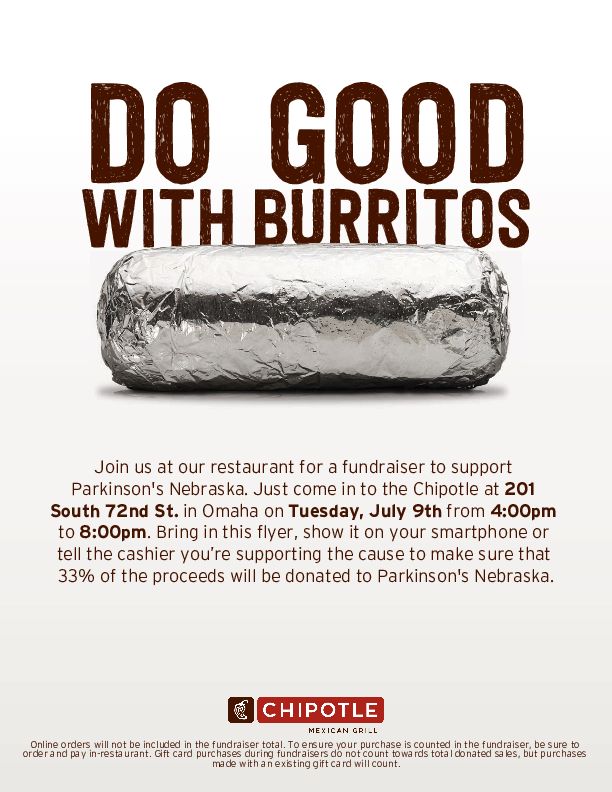 Bring your Taco Tuesday plans to Chipotle on 72nd and Dodge on July 9th from 4:00pm- 8:00 pm to do just that! Show them this flyer on your phone, print it out, or simply tell them that you want 33% of your purchase to support Parkinson's Nebraska.
All Chipotle proceeds will be used to support our GIVE65 A Journey Shared campaign, specifically the Parkinson's Nebraska Exercise Network. Parkinson's Nebraska sponsors 10 Parkinson's exercise classes throughout Omaha, Bellevue, and Lincoln. The network provides unlimited access to these classes for just $35 per month, making the benefits of exercise accessible to the community.
Research shows that exercise provides immense benefits for those with Parkinson's Disease. It helps with managing symptoms and can protect the brain from further degeneration, delaying the progression of the disease. We believe in the power of exercise and that is why we are committed to making classes accessible.
Can't make it? You can still support our campaign by making an online donation during the GIVE65 online giving event. Visit https://www.give65.org/a_journey_shared  beginning July 1 to schedule your online contribution!