Community Advocacy Model
November 1, 2020
The Parkinson's Nebraska Community Advocacy Model was created as part of the Community Outreach Program. It represents the continuum of medical, wellness, and community services needed to help people with Parkinson's live well.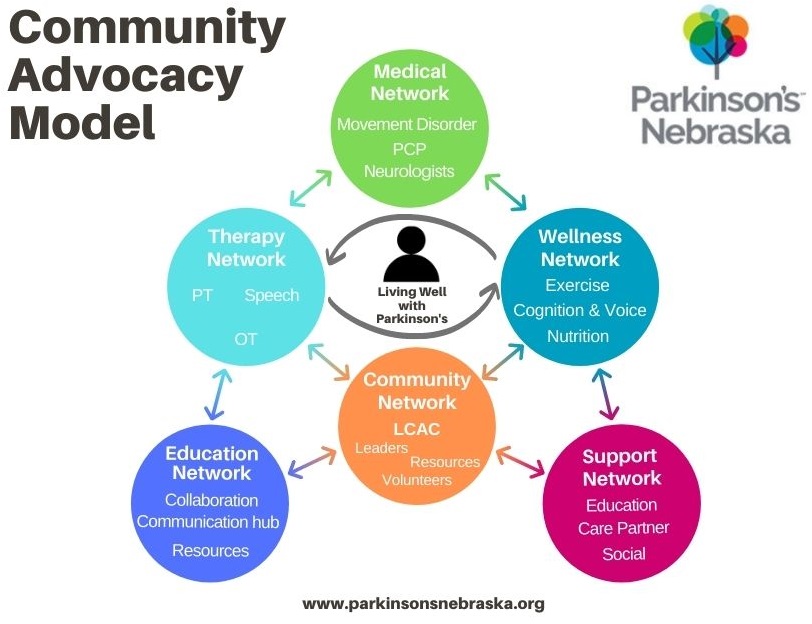 Community Advocacy Networks
The model separates these services into networks- medical, therapy, wellness, community, education, and support. Together, these networks consist of the treatments, services, education, and support that empower people with Parkinson's to live well.
Medical Network
The Medical Network consists of movement disorder specialists, neurologists, nurse practitioners, primary care physicians. This network diagnoses the patient with Parkinson's disease, prescribes and monitors medication, and other treatment options.
Therapy Network
The Therapy Network consists of physical therapists, occupational therapists, & speech therapists. This network provides people with Parkinson's with the therapy services they need to maintain independence and achieve their baseline of function.
Wellness Network
The Wellness Network consists of specialized exercise classes, voice & cognition maintenance classes, nutrition education, and more to help people live well with Parkinson's and maintain their function.
Community Network
The Community Network consists of local leaders & professionals, volunteers, local & national resources, etc. This network is made up of the people organizing and doing work in the community to empower people with Parkinson's and connect with resources.
Education Network
The Education Network consists of the educational programs & webinars, the partnerships and collaborations that help spread awareness, and the resources that help people Parkinson's learn how to live well. It also includes the communication network that allows for the sharing of information and resources across Nebraska.
Support Network
The Support Network consists of the support groups, caregivers, friends, and family of the person with Parkinson's. It is the social network of support that helps people with Parkinson's and their families learn how to cope and find hope with Parkinson's disease.
A Continuum of Services
One of the key parts of the Community Advocacy Model is the continuum of services. Parkinson's disease is progressive and currently untreatable. However, people with Parkinson's can live a quality life and maintain independence by continuously monitoring and maintain their function.
For example, the Therapy and Wellness Networks are shown as a continuum on the model with arrows looping from one network to the other. People with PD need to periodically meet with therapists to monitor their functional baseline while maintaining their current function through wellness programs. They should be regularly using services in both networks.
It is possible to live well despite Parkinson's disease with access to the right services. The goal of the Community Advocacy Model is to help local leaders grow and strengthen the Parkinson's community they serve. The model serves as a foundation for patient-centered, community-based programs that help people with Parkinson's live a full, quality life.