This year, we didn't want to limit the Give65 giving fun to online. We are giving you another delicious way to get involved with our campaign and support the Parkinson's community!
What better way than something that fills the belly and warms the heart 🌯 🌮 ❤️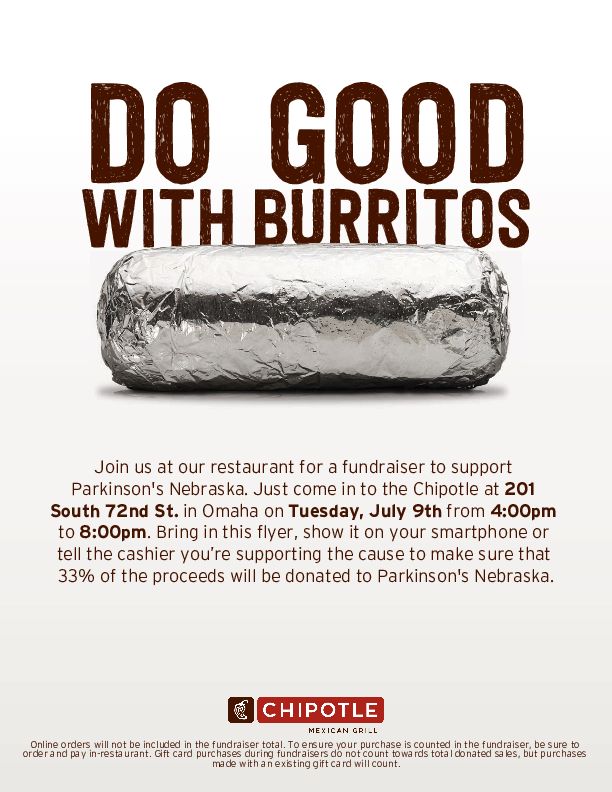 Bring your Taco Tuesday plans to Chipotle on 72nd and Dodge on July 9th from 4:00pm- 8:00 pm to do just that! Show them this flyer on your phone, print it out, or simply tell them that you want 33% of your purchase to support Parkinson's Nebraska.
All Chipotle proceeds will be used to support our GIVE65 A Journey Shared campaign, specifically the Parkinson's Nebraska Exercise Network. Parkinson's Nebraska sponsors 10 Parkinson's exercise classes throughout Omaha, Bellevue, and Lincoln. The network provides unlimited access to these classes for just $35 per month, making the benefits of exercise accessible to the community.
Research shows that exercise provides immense benefits for those with Parkinson's Disease. It helps with managing symptoms and can protect the brain from further degeneration, delaying the progression of the disease. We believe in the power of exercise and that is why we are committed to making classes accessible.
Can't make it? You can still support our campaign by making an online donation during the GIVE65 online giving event. Visit https://www.give65.org/a_journey_shared  beginning July 1 to schedule your online contribution!