Please note that online registration closes on Thursday night.  Walk-in Registration is available!  Credit cards will not be accepted at the Skate-a-thon.  An ATM will be located in the Skate-shack for your convenience. 
UNMC's Skate-a-thon for Parkinson's 2018
When and Where: January 26-27 at the UNMC Ice Rink for 24 hours from 2:00 pm on Friday to 2:00 pm on Saturday.
*Ticket prices include skate rental and unlimited skating.
Individual Tickets=$15 
Family Tickets (for 2 adults &children from the same household under the age of 18)=$50
Ticket Price Includes registration, skate rental, and Parkinson's Nebraska Winter Gear!
**Parkinson's Nebraska Winter Gear is limited to the first 275 registered skaters.
Register today!
Purchase your tickets to register online today!
In-person registration will also be available at the event!
Want to do more to support our mission?  Rally your biggest fans with this Pledge Form!
2018 Schedule of Events
Friday, January 26, 2018
2 p.m. – Skating and countdown begins
3 p.m. – After school snack
4:30 p.m. – Official opening ceremony
6 and 7 p.m. – Chuck-a-Puck Contest ($1 chances to try to throw a foam puck into a bucket in the center of the ice rink; prizes will be awarded)
8 p.m. – Dance party on ice (all included)
9 p.m. – One last time to Chuck-a-Puck
10 p.m. – Pizza and pajama skate
Midnight Munchies – Treat provided for all
Saturday, January 28, 2018
1 a.m. – Shiver Skate
2 a.m. – Halfway there photo!
3 to 6:30 a.m. – Open skating
6:30 a.m. – Sunrise yoga
8 a.m. – Time to make the donuts
9 a.m. – Dance party continues
10 a.m. – Country Kickers
11 a.m. – Lunchtime laps
Noon – Hockey player special
1 p.m. – Final hour festivities
Want to be there, but can't?!  Watch the event livestream!
Spread the Word
Help us get the word out and tell your friends you are going by sharing the Skate-a-Thon's FaceBook Event!
Rock the Clock for Parkinson's!
This year we are challenging  individuals and teams to commit to being out on the ice for the full twenty-four hours!
Rock the Clock Individual Challenge–Are you  crazy determined to go it alone and skate for the full twenty-four hours?!  Individual Rock-the Clockers will receive a prize, and enjoy free food, ongoing support and recognition throughout the event.
The Rock the Clock Individual Challenger who raises the most funds will receive a special prize!  Invite your friends and family to support your valiant effort for a good cause with this Help Me Rock The Clock Pledge Form!
**Special Registration Instructions-Register as a "Rock the Clock Team Participant" and enter "Individual" in the team name field.
Rock the Clock Team Challenge-Recruit your friends, family and co-workers to Rock the Clock for twenty-four hours!  Divide and Conquer—assign shifts however you'd like!
Show off your team unity by planning to wear something special—a funny hat or a favorite color to honor a special person's journey with Parkinson's!
Use this Rock the Clock Team Roster Form to get devise your plan of attack!
Rock the Clock teams will enjoy special recognition, free food, and be eligible for prizes!
**Special Registration Instructions-Ask your team captain for your team's name and assigned skating time.  Register as a "Rock the Clock Participant" and enter your team name.  Rock the Clock teams are responsible for coordinating their own schedules.
Volunteers Needed!


Want to Help?  This epic event would not be possible without the support of volunteers!!  This twenty-four hour event requires round-the-clock support!

Sign up today!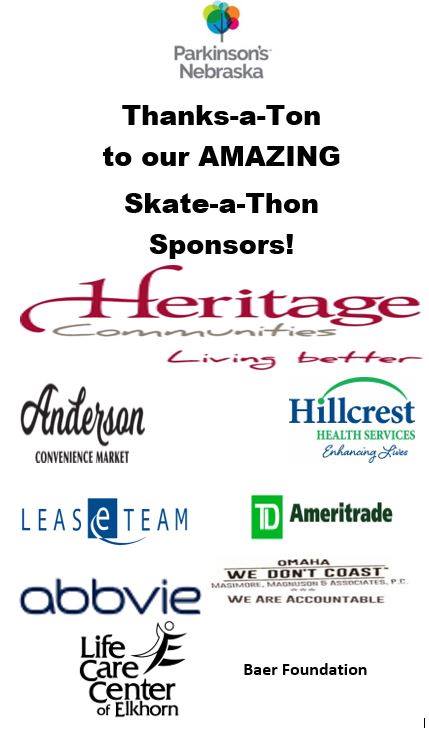 Support Our Friends at UNMC
Click here to make a donation to the NU Foundation.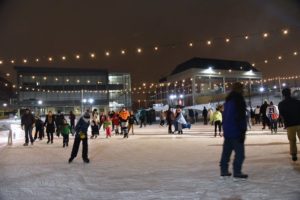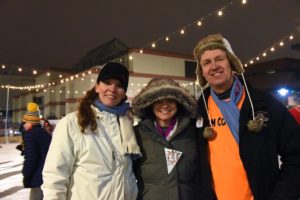 Event Parking Information
Free parking is available at the UNMC Campus.  Please use Lot 15  near the Center for Healthy Living or Parking Lot 6 (near 42nd and Dewey).