Skate-a-Thon for Parkinson's
2019 Skate-a-Thon for Parkinson's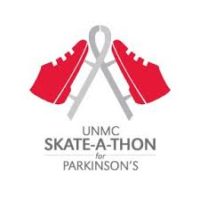 Join us for this fun and unique opportunity to help people with Parkinson's Disease right here in Nebraska!
This year's event will take place from January 25-26 at the UNMC Ice Rink for 24 hours from 2:00 pm on Friday to 2:00 pm on Saturday. The Skate-a-thon is a unique, family-friendly, outdoor ice-skating event!
Register. Tickets include unlimited skating—stop by any time to skate, and skate for as long as you'd like. Or recruit your family, friends, and co-workers to form a Rock the Clock team to divide up the twenty-four hours and have a representative out on the ice at all times! Individual: $15 Price includes registration and skate-rental. Family: $50 Price includes registration and skate rental for two adults and up to 8 children (under the age of 18) from the same household. Rock the Clock Team Member: $15 Price includes registration, skate-rental, free food, motivation, and recognition throughout the event. Skaters and teams can raise more money for Parkinson's Nebraska by rallying the support of their friends and family! Ask your cheerleaders to donate on your behalf. Prizes will be awarded to the individual, family, and team who raise the most money!
Click here to register today! Online registration will close at 10:00 am on Friday, January 25th. 
Volunteer. If you're not a skater, but would still like to be involved we also have volunteer opportunities available. A 24-hour event requires a lot of help from dedicated volunteers to run smoothly! Please click here to sign-up for a time slot.
Donate. Can't be there to skate, but want to help? Donate!
Sponsor. Sponsorship opportunities are still available! Companies interested in sponsorship should call Amber at the Parkinson's Nebraska office at 402-715-4707 or email info@parkinsonsnebraska.org.
Schedule of Events:
January 25
2 PM- Skating and countdown begins
3 PM-After school snack
4:30 PM- Official Opening Ceremony
6 and 7 PM- Chuck-a-Puck Contest ($1 chances to try to throw a foam puck into a bucket in the center of the ice rink; prizes will be awarded!)
8 PM- Dance party on the ice with music by DJ Chaos
9 PM- One last time to Chuck-a-Puck
10 PM- Godfather's Pizza and pajama skate
Midnight Munchies- Treat provided for all
January 26
1 AM- Shiver Skate
2 AM- Half way there photo!
3 to 7 AM Open skating
7 AM- Sunrise yoga on the ice
8 AM-  Time to make the donuts
9 AM- Dance party continues
10 AM- Hockey Player Special- Wear your favorite jersey!
11 AM- Lunchtime laps
1 PM- Final hour festivities
Thank you to our generous sponsors: