Community Calendar
On the Community Calendar, community members will find the specialized Parkinson's  exercise classes, support groups, and community events happening across Nebraska. Please search  your city below to find Parkinson's exercise classes, support groups, and events near you.
COVID-19 Update: Many events, classes, and groups have cancelled to help contain the spread of COVID-19 and keep our community safe. Contact your local class instructors and support group facilitators to learn more about cancellations in your area.
Search "Online" to find  virtual programs. Visit the Online Resources tab to learn more about other online programming from our partners. 

Tying the State Together Kick-off (Online)
September 5, 2020
@
9:30 am
–
10:30 am
CDT
Our board members are more committed than ever to increasing services and spreading awareness across Nebraska. They are proving their commitment by taking the Walk the State Challenge literally and are cycling across Nebraska!
Ted Wuebben and Ryan Cary from our board will be riding, camping, and spreading awareness across the state for the Tying the State Together journey. Ted will start in Omaha, Ryan will start in Scottsbluff, and they will ride to meet each other in the middle at Valentine, NE!
They will be camping in towns and spreading Parkinson's awareness to communities along their path. Will they be stopping near you? Check out their route map below: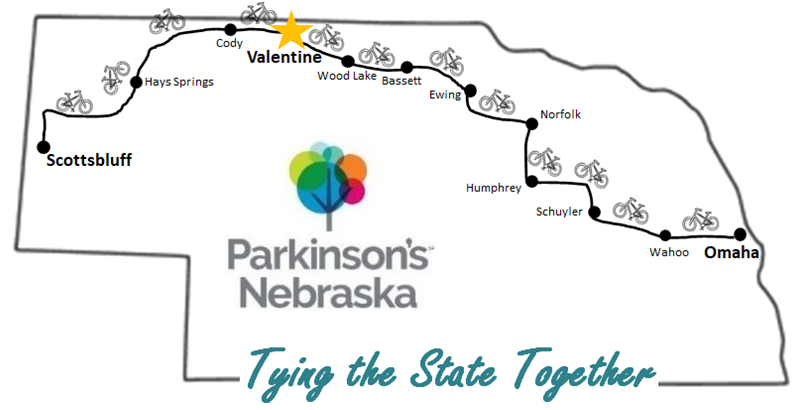 The Tying the State Together journey will kick off on Saturday, September 5th with a commencement ride led by Honorary Rider Dr. Howard Gendelman from UNMC. The riders, along with friends and family, will be taking off from the Parkinson's Nebraska office on 168th and Blondo in Omaha. Watch the commencement kick-off live on our Facebook page on Saturday, September 5th at 9:30 am.