Community Calendar
On the Community Calendar, community members will find the specialized Parkinson's  exercise classes, support groups, and community events happening across Nebraska. Please search  your city below to find Parkinson's exercise classes, support groups, and events near you.
COVID-19 Update: Many events, classes, and groups have cancelled to help contain the spread of COVID-19 and keep our community safe. Contact your local class instructors and support group facilitators to learn more about cancellations in your area.
Search "Online" to find  virtual programs. Visit the Online Resources tab to learn more about other online programming from our partners. 

Parkinson's Disease Needs Assessment of Nebraska
April 15, 2021
@
2:00 pm
–
3:00 pm
CDT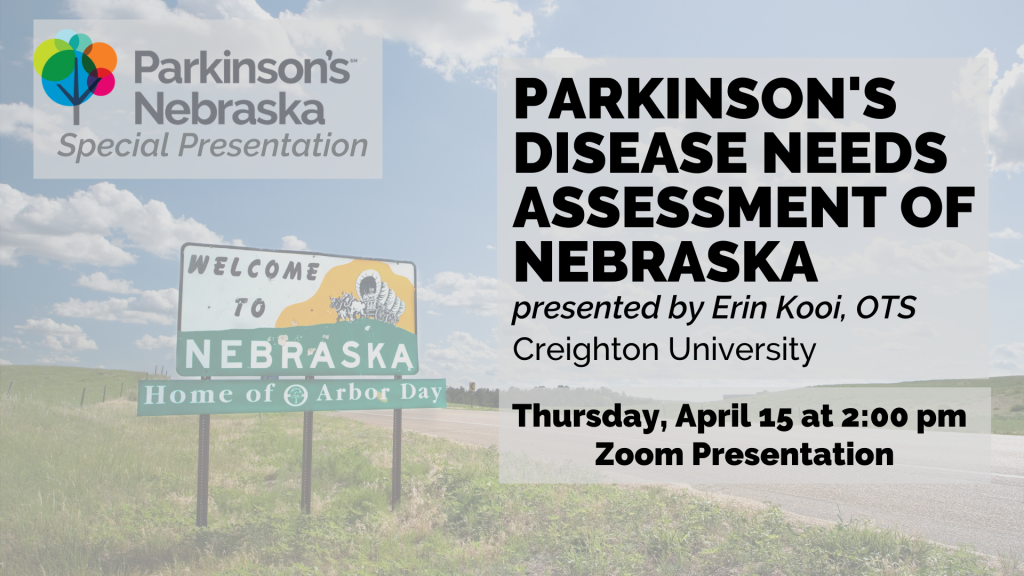 Join us for a Parkinson's Nebraska special presentation reviewing the Parkinson's Disease Needs Assessment of Nebraska!

This presentation addresses the medical and social needs of individuals living with PD from research, individually identified examples from community members and current resources available across the state of NE. It will also include an action plan to be taken by Parkinson's Nebraska to minimize the gap in disparities identified in the research.

Erin Kooi, OTS is an occupational therapy doctoral candidate in the School of Pharmacy and Health Professions at Creighton University. As part of her doctoral capstone experience, Erin conducted a needs assessment of the Nebraska Parkinson's community.

This presentation is free, but registration is required. Register today at https://bit.ly/2RagrxT.
Let us know you're attending by RSVPing to the Facebook event!