Community Calendar
On the Community Calendar, community members will find the specialized Parkinson's  exercise classes, support groups, and community events happening across Nebraska. Please search  your city below to find Parkinson's exercise classes, support groups, and events near you.
COVID-19 Update: Many events, classes, and groups have cancelled to help contain the spread of COVID-19 and keep our community safe. Contact your local class instructors and support group facilitators to learn more about cancellations in your area.
Search "Online" to find  virtual programs. Visit the Online Resources tab to learn more about other online programming from our partners. 

In Sync Support Group Leader Workshop (Online)
October 20, 2020
@
10:00 am
–
October 22, 2020
@
12:30 pm
CDT
Calling all support group leaders to join us at the In Sync! Support Group Leader Workshop hosted by PMD Alliance!
This FREE workshop will provide support group facilitators the opportunity to explore the issues and situations that leaders encounter and look to one another for insights about group leadership and management.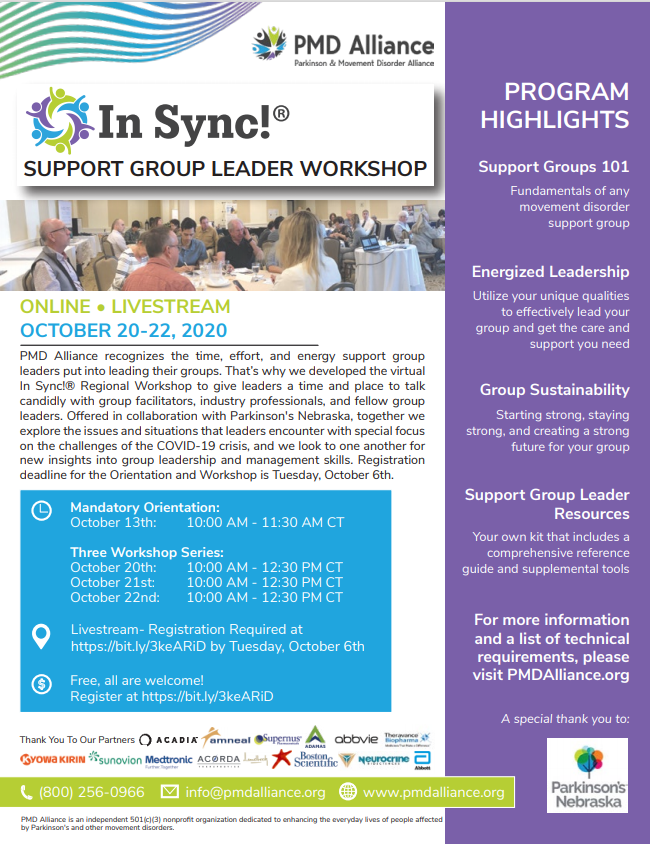 Registration is now open at https://bit.ly/3keARiD
Note: There will be a mandatory orientation on Tuesday, October 13th at 10:00 am- 11:30 am
402-715-4707
amber@parkinsonsnebraska.org
402-715-4707
amber@parkinsonsnebraska.org